The tip with this curry is to let it for as long as possible before eating so the natural flavours and aromatic qualities of the curry powder infuse the vegetables.
INGREDIENTS:
2 cups (12oz-335g) cauliflower florets - for the cauliflower rice
1/2 red bell pepper (capsicum), diced
1/2 zucchini (courgette), diced
1/2 carrot, diced
1 cup (6oz-175g) broccoli florets
1/2 celery stick, diced
1 small garlic clove, crushed
1/2 red chilli, finely chopped
1 teaspoon fresh root ginger, finely chopped
1 1/2 tablespoons curry powder of choice
1 teaspoon cumin powder
1/2 cup cashew nut milk (see recipe elsewhere in this section) or use coconut milk to sweeten the taste
1 dessertspoon desiccated coconut
1/2 cup fresh mint, shredded, to garnish
4 tablespoons lime juice
salt & pepper to taste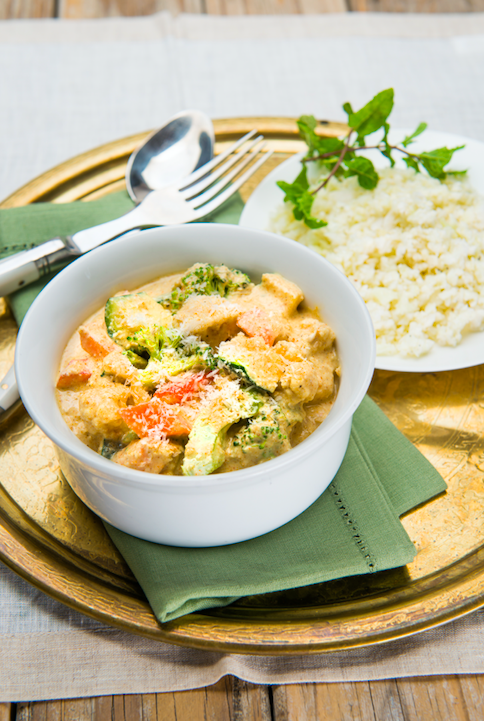 METHOD:
Combine the bell pepper, zucchini, carrot, broccoli, celery, garlic, chilli. ginger, remaining lime juice,curry powder and cumin into a preparation bowl. Add the cashew nut milk (or coconut cream) and thoroughly stir through the vegetables. The curry powder will begin to discolour the creaminess of the milk. Season to taste and set aside for several hours.
Put the cauliflower florets in a food processor and pulse until rice-like consistency. Season with salt and half of the lime juice, Divide between 2 serving bowls.
When ready to serve stir through the curry mixture for a final time and divide between the serving bowls containing the cauliflower rice.
Garnish with desiccated coconut and mint.
Recipe copyright Scott Mathias 2014. From Let's Eat RAW Recipe book. New Holland Publishers