The ingredients which make up this burger can used elsewhere too. All the recipes can be found in my 'Let's Eat RAW' recipe book and my'RAW Vegan Meals' recipe book along with my 'The Ultimate GUTFIXxXx- How To Successfully Live A Plant Based Lifestyle' book.
Cashew Cheese 1
Ingredients:
3 cups of raw cashews (not roasted) – soaked overnight
½ cup coconut oil
2 medium clove of garlic – chopped
3 dsp. nutritional or savoury yeast (this is different from brewers yeast) available from your health food store
Juice of 1-1.5 lge lemon
Salt to taste
Method:
Blend all the ingredients in a high-speed food processor until the mix is soft. Spoon off into round stainless steel moulds removing the outer mould so cheese stands firm. Place into your dehydrator at 55C-130F for 2 to 3 hours until outside is firm or into your oven setup as a dehydrator for 1-2hours until the outer skin is firm.
You may also choose to not place the cheese in moulds but just leave in a storage bowl and use beside salads or on burgers as required.
Herb Cashew Cheese 2
After you have made the basic cheese mixture you can add any fresh or dried herb of choice.
Dill – chopped finely
Basil - chopped finely
Cumin – taste
Curry powder mix – to taste
Kaffir lime leaf – chopped finely
This nut cheese can be stored in an airtight container for up to 10 days.
Marinated Mushroom
Ingredients:
4 large Portobello mushrooms – cleaned
1/3 cup olive oil
¼ cup apple cider vinegar
juice of 1 lime
salt and pepper to taste
½ tsp Italian mixed dried herbs (optional)
Method:
Place all the ingredients into a prep bowl and thoroughly mix through. Set aside in the fridge for several hours or over night. Mix through periodically. Taste test and add extra salt or any of the other liquid ingredients as needed.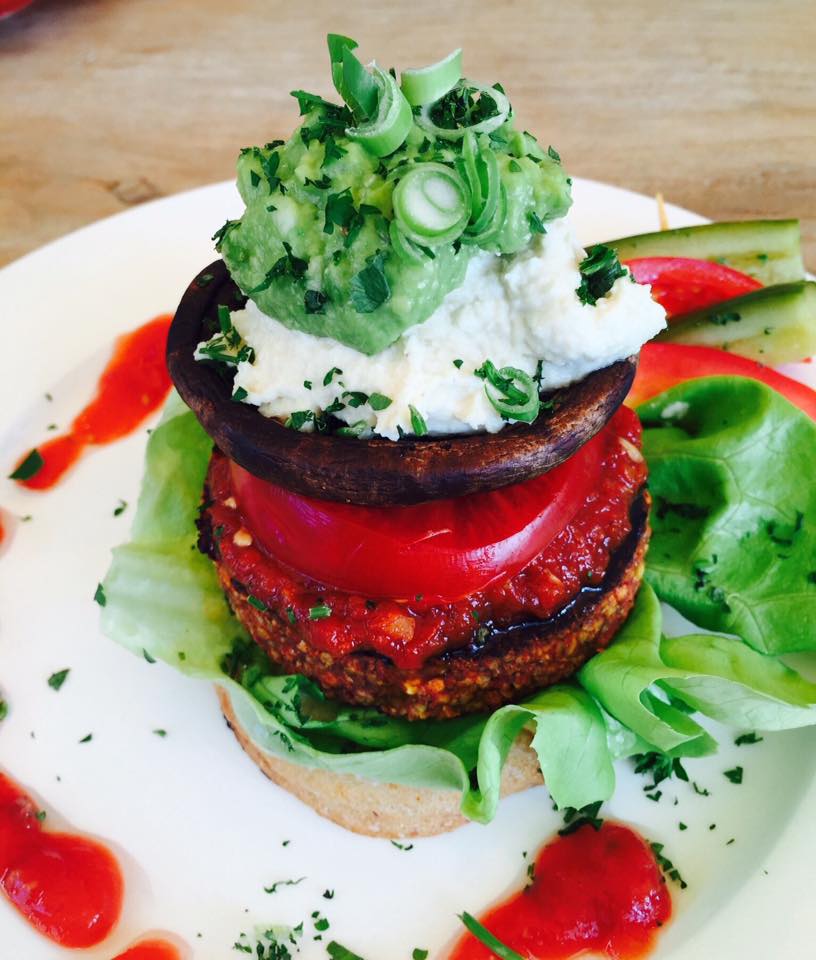 Seed Bread Recipe.
My first recipe book has a number of plant based bread recipes in it. You may also choose to use a conventional modified bread using Quinoa, amaranth or rye if you wish. Here is a basic seed bread recipe for you to play around with.
Ingredients:
2 cups sunflower seeds
1 red onion – diced
1 tomato-diced or 4 sundried tomatoes, sliced
½ red bell pepper-diced
½ cup water
1cup flaxmeal – ground flaxseeds
salt to taste
Method:
Add all the ingredients, except the flaxseed meal, to a blender or processor and thoroughly blend together. Add the flaxmeal and pulse blender a few times to ensure meal is fully integrated. Add just enough of the water to create a firm dough-like mixture. If you mixture is too wet then add extra meal to soak it up.
Take 1/3rd of the mixture and place onto heat resistant teflex paper. Cover with baking paper or another sheet of teflex and using a rolling pin, roll out to a thickness of 2 cm. Remove the covering paper. Square off the edges and score the flatted mixture to cracker or 'slice' size dimensions. Repeat on other sheets until the mixture is used up.
You may use a dehydrator 8-12 hours at 50C or an oven with the door open and fan on at 100C for 2-3 hours to dry. Once the mix has become dry you can separate the cracker/slices and turn to ensure max dryness. You may also remove from the over before drying is complete if you would prefer something pliable.
Rich Tomato Salsa
Ingredients:
2kg (4.4lb) tomatoes – quartered
300gm-10oz red onion – diced
30gm-1oz fresh ginger – peeled and diced
60gm-2oz fresh ginger – peeled and chopped
150g -5oz coconut sugar
¼ tsp. cayenne pepper
½ tsp. cinnamon
1tsp paprika
2 tbsp. sea or desert salt
60gm-2oz olive oil
80gm-3oz ACV – apple cider vinegar
Method:
Place all the ingredients into a large mixing bowl and thoroughly blend with your clean hands. Using protective gloves is advisable as the mix can stain.
Lay out into a round or square-baking tray pre-lined with baking paper.
Place into your dehydrator for 12hours at 60C-140F or remove when tomatoes are seen to start drying and liquid becomes quite sweet.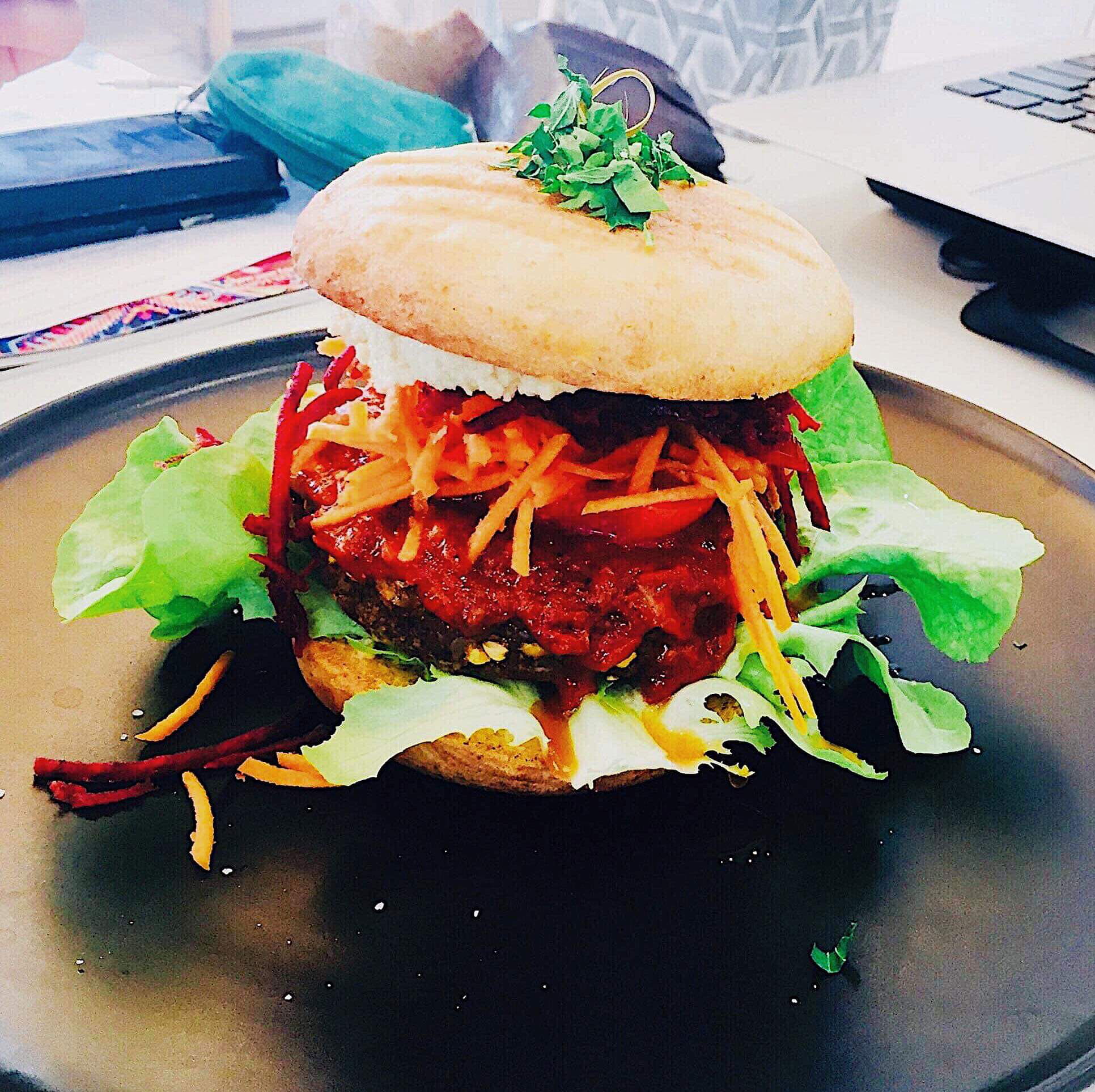 Vegetable Burger
Ingredients:
Wet mix:
1kg carrots – chopped
2 cups (500gm) chickpeas - cooked
1 large onion – chopped
4 tomatoes – chopped
8 medjool dates – pitted
1 cup (250mg) semi-dried tomatoes – chopped
Thoroughly blend these 'wet' ingredients until fully broken down and set aside.
Dry mix:
3 cups (750gm) sunflower seeds
1 cup (250gm) pepita (pumpkin seeds)
Pulse these two ingredients in a dry food processor until it is reduced to a flour-like composition. Now add the following ingredients whole:
1 cup (250gm) whole buckwheat
¼ cup (60gm) psyllium husk
½ cup (80ml) of organic tamari or light soy sauce
4 tsp. dried oregano
4 tsp. dried basil
2 tsp. smoked or sweet paprika
Now thoroughly blend the combined sunflower and pepita flour with these ingredients and add to the wet mix.
Using your hands, mix wet and dry until a soft damp texture is achieved.
Method:
To form the burger, weigh up 100gms of the mixture and place into a round food form and using a tamper, flatten the mix down. As you remove the form gently apply some pressure increasing the size of the burger to approximately 9cm in diameter. Do this on heat resistant teflex paper, laying the burgers side by side.
Once the mix is all used up, place the tray into the dehydrator and set to 50C (140F) for 9 hours. After a few hours turn the burger over and do this again at the 8 hour mark. Most dehydrators, whilst set at a constant temperature have irregular ambient drying efficiency, so feel free to run the drying process on by checking the centre of the burgers for any dampness. They should be completely dried when any dampness in the centre is gone.
Store under refrigeration in an airtight container. These can last up to a month when chilled.
In the café we use a sandwich warmer to heat up the burger. They can be fried off but remember that further 'cooking' will lessen the nutritional value of the burger.
Black Bean Burger Option

Follow the same process using the same ingredients as the vegetable burger but replace the chickpeas with black bean. Also called black turtle beans, Mexican beans, black Spanish beans, Tampico beans and Venezuelan beans. Black beans have been a long time staple in Mexican, Central American and South American cuisines as they are rich in protein, folate, copper, VitB1 and magnesium.
Hold back a few beans to throw into your mix once blending is complete.
Kale and Chickpea Burger
Again, follow the same approach as the basic veggie burger with the addition of 3 cups of chopped kale. The rest of the mix and layout procedure remains the same.
Mexican Burger
Use the same ingredients and approach as the veggie burger with the addition of the following ingredients.
1 cup of rich tomato salsa
1 cup of fresh coriander.
Using the same approach as the veggie burger, blend all the wet ingredients, add the dry ingredients and lay out as described.
Remove the mixture and gently pulse in a food processor. Return to the baking tray and dehydrate for a further 2 hours or until the chunky liquid starts to become brown as the sugars concentrate. Note that you can make this mix hotter simply by adding more cayenne pepper to arrive at a taste, which is comfortable for you.
At this time remove from drying and place into a glass jar and refrigerate. Use on anything that takes your fancy. This stores well for several weeks when you add 2 tbs. fresh lemon juice.
Now going back to image above. Once you have all your ingredients begin to assemble as shown. You can use either sliced fresh tomatoes or oven roasted for added sweetness. Use basil for garnish, herb cheese underneath the top layer and the straight cashew cheese below. Add lettuce or green of your choice.
ENJOY!!
Recipes copyright Scott Mathias & GUTFIXx 2019