Ingredients:
1 cup of sunflower seeds, soaked for 60 minutes
1/2 cup chickpeas, cooked
1 lge pickle or gherkin, save 3 dsp. pickling liquid from the jar
2 dsp vegan mayonaise or cashew cream mayo
¼ cup of lime-juice
½ red onion, finely diced
¼ cup dill, chopped
½ cup celery, washed and finely diced
1 tbsp. dulse seaweed – pre-soaked in water for 3 minutes, removed and chopped finely.
1 tsp. lime-juice for garnish
1 lge avocado – with stone removed and when ready, diced into small bite size pieces
3 tomatoes cut into 1/4's with flesh removed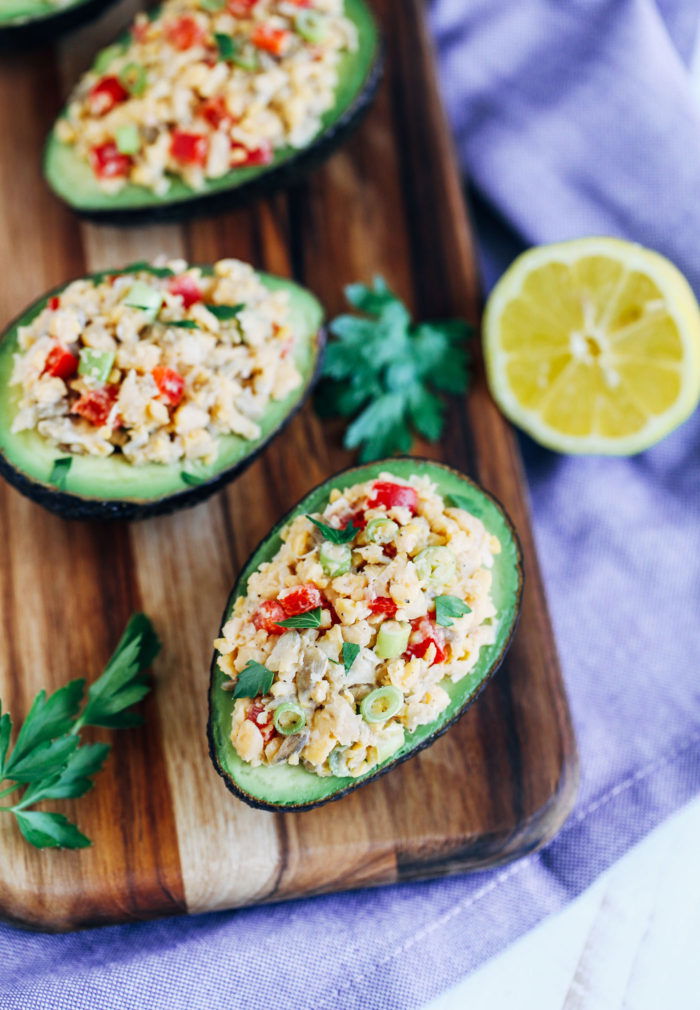 Method:
Place all the ingredients except the avocado or tomatoes into a blender, pulsing at intervals until all the seeds and chickpeas have been broken down and the consistency is just turning to paste. Be careful not to over pulse. Taste and add extra pickling juice and salt and pepper to taste. You are looking for a 'tuna' like flavour.
Spoon off into avocado halves or the quartered tomatoes with a dash of the lime-juice on top. A grind of black pepper also adds different flavours. Eat with a good organic commercial corn chip . Any remaining mix can be kept for up to 3 days under refrigeration. Squeeze lemon or lime over what's remaining and it will keep longer.
ENJOY!
Avocado image credit Making Thyme With Health
Recipe Adaption Page 94 The Ultimate GUTFIXx by Scott Mathias