Take this Garlic Cashew Mayo/Aioli for example – once you pre-soak the cashews for 2-4 hours, you have the basis of a creamy, garlic aioli or mayonnaise – and because of the lemon juice and olive oil, it keeps well in the refrigerator. Once you try this, you'll never choose store-bought mayo again.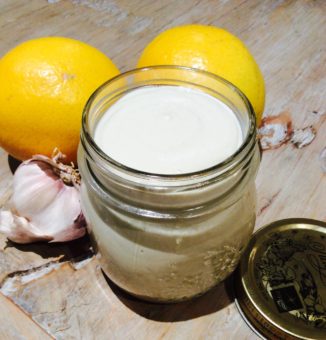 Ingredients:
1 cup of unsalted cashews - soaked for 2-4 hours
3 tbsp of lemon juice
1 tbsp of apple cider vinegar
2 garlic cloves - crushed
½ shallot - chopped finely
½ tsp salt
½ cup of filtered water
5 tbsp of cold pressed olive oil
1 tsp wholegrain organic mustard
Method:
Drain the cashews and rinse thoroughly.
Place all the ingredients except the olive oil and mustard, into a high-power blender.
Blend until creamy and smooth.
With the blender running slowly, pour in the olive oil.
Add the mustard and pulse until incorporated into the aioli.
For a thinner mix, add more water and oil until the desired consistency.
For allergy sufferers replace the cashew nuts with avocado and the outcome is just as fabulous.
You can keep this aioli in the fridge for up to 14 days simply by adding a 1/2 teaspoon of lemon juice to the mix as well. The lemon juice acts as a natural preservative. The sauce can be used for any occasion where uncooked or cooked vegetables are involved. It also works delightfully well with roasted vegetables.
Enjoy this simple recipe and please share with friends.
Copyright Scott Mathias RAW Vegan Meals Recipe Book 2019.